The article compares Nexus 6 and Samsung Note 4. Have a quick look on the comparison of both:
Google Nexus 6
Google has the tradition of promoting the nexus devices on its Google play store but it is set to break that practice by making the Nexus 6 available at all five major US carriers-Verizon wireless, AT&T, Sprint, T-Mobile and US cellular. When Google launches a new major version of its software it usually offers up some hardware too. With Nexus 6 you will be the first to get the latest Android updates. It means you will have Lollipop, the newest version of Android from Google so you can enjoy the latest features and enhancements.
It's a black rectangle with curved corners, large bezels above and below the screen and small ones at the side. There is no sign of any buttons on it. They have been moved to the back. On the other hand they could just be flush with the edges or hidden by the fingers. The thin side bezels could mean that it is packing a larger screen into a similar size chassis. It has a fingerprint scanner. You can easily switch between editing documents, browsing the web, watching movies and listening to music.
Google play is your one stop shop for digital entertainment with more than 1 million apps and games. All your favourite Google apps work together across all your devices – Gmail, Chrome, Google calendar and Google keep are seamlessly integrated. The 6-inch quad HD display works for everything from e books and docs to movies and games. Dual front facing speakers deliver stereo sound so you can truly immerse yourself in videos and games.
The 13 MP camera's optical image stabilization and HDR let you take your best possible photos with the least possible effort. A large 3220mAh battery provides up to 24 hours per charge. If you use Motorola Turbo Charger for a quick burst of power it will take only 15 minutes to get up to 6 additional hours of battery life. The Nexus 6 sports a 5.96-inch QHD with 2560×1440 pixels (493 ppi pixels per inch) and AMOLED capacitive touch screen protected by Coming Gorilla Class3. It is powered by 805 series Snapdragon CPU and runs on Android 5.0 Lollipop. It houses a 32/64 GB storage capacity and 3GB RAM and a 13MP main camera with dual-LED flash, f2.0 aperture, 4K Video recording, and 2 MP front camera with HD video conferencing feature. The device also has a 3220mAh battery with talk time up to 24 hours, standby close to 250 hours (with ambient display on) and 330 hours (with ambient display off).
Samsung Note 4
The Note 4 of Note series from Samsung got to a place where now everyone wants to be in too. It has exclusive design. A metal frame and a curved glass over the screen along with a refined faux leather back work together to make the latest phablet one of the handsomest pieces of hardware around. Galaxy Note 4 has a good overall performance. The precise color saturation and the high contrast of 5.7' Quad HD Super AMOLED display will drive you to feel the fluent and vivid color as if you are looking with the naked eye. High resolution boasts tremendous viewing experience. It is truly optimized for web browsing and e booking. You can shoot brighter and clearer images using rear and front camera.3.7 MP front facing F1.9 lens camera, and a 16 MP Smart OIS back camera provides you the best results for every moment of your life even in dark surroundings. Videos are rendered beautifully including all high definition samples and UHD clips.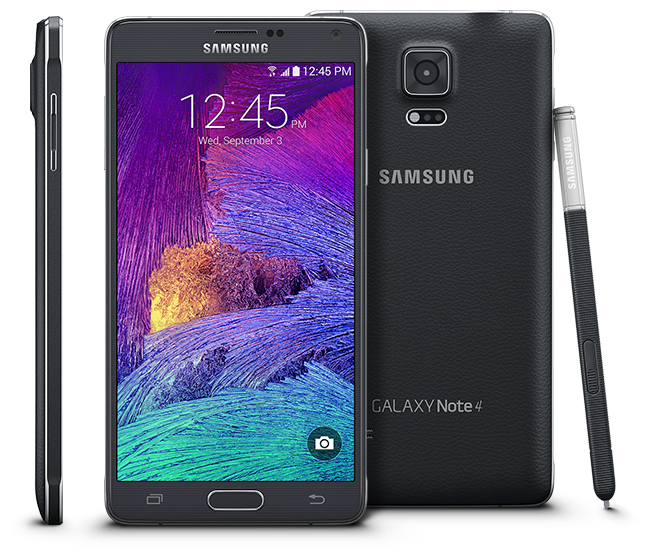 Sound from the mono speaker on the rear is surprisingly deep, loud and rich. Even at full volume everything from intricate classical music to modern EDM sounds quite good. Battery life proved to be one of the best features. You should easily be able to get two full days of usage out of each charge. This phone certainly has the chops to back up its aspirations. Particularly the S pen has multiple very clear purposes and feels like a perfectly natural part of the usage experience-it's there when you want it but isn't forced upon you when you don't.
With S pen you can easily select the contents you want from any text, screen and apps. If you like the idea of using a smart phone with a stylus this is currently the only game in town. Every manufacturer now has a large screen flagship phone but Galaxy Note 4 is the most versatile in the group. In that sense it is a good value for money.
Both handsets are fantastic and are trademarks of their launching companies. Note 4 give the facility of taking and saving notes with S pen whereas in Nexus 6 all your Google apps work together. Whatever be your choice both handsets are available and can be purchased at the best price using ebay coupons from ebay deals.