It is well known that restoring files via data recovery software has been out of question, so simple deletion and format aren't enough to protect the security of the private data (like business files, personal information, etc). When deleting a file, it isn't really cleared – it stays on the hard disk, even after you empty it from the Recycle Bin. This permits people to restore these files. Then many computer users are faced up with a problem that how to clear data from partition thoroughly. In fact, users had better wipe disk partition to get rid of unnecessary loss. Through this way, the files cannot be recovered any more. However, what can users do to reach the goal? Here, using third party partition manager can be a good method.
Note: the function "clean" in diskpart can clear disk data. However, people can restore the data since it only deletes the partition in the disk
The professional freeware MiniTool Partition Wizard offers the function of destroying disk data. And the "Wipe Partition" feature in it can help users to erase data from partition. Detailed steps will be listed below.
Tips: If you are working with Windows Server os, then you could try to use MiniTool Partition Wizard Server, the latest partition magic server to complete your task.
Preparation: download the partition manager from its download center. Then install and run it to get the main interface.
Choose the target partition, and click "Wipe Partition" on the drop-down menu to get into the "Wiping Disk or Partition" interface.
Note: this function will permanently destroy all data on the selected disk or partition. Please be certain that you are erasing the correct device.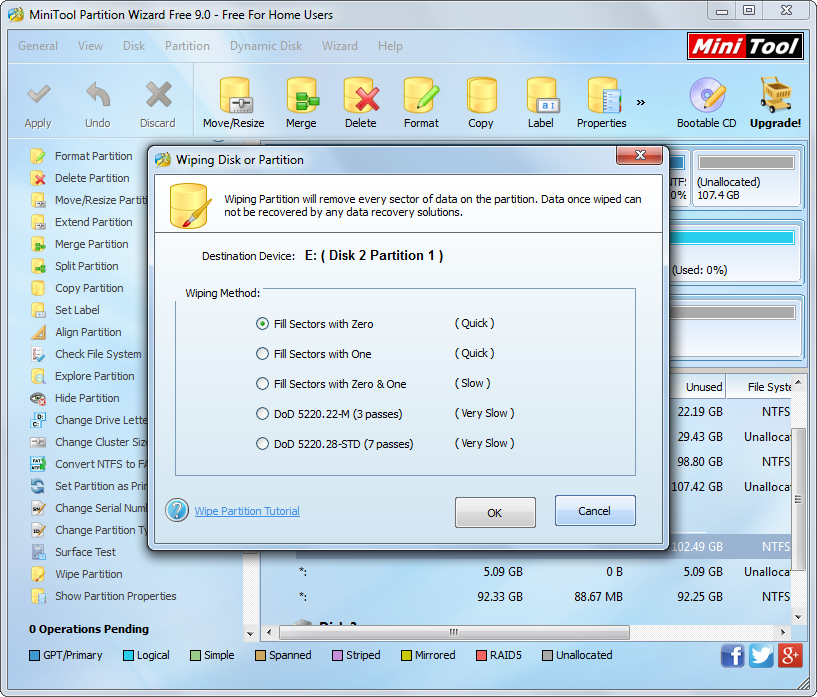 MiniTool Partition Wizard gives users five methods (the former two erase quickly but with low security, and the latter ones are just on the contrary) to clean disk partition.
Here, I take the first way for example. Click on "OK", and then the partition magic will return to its main interface.
Now the specified partition has become an unformatted one and the whole data in it has been cleared.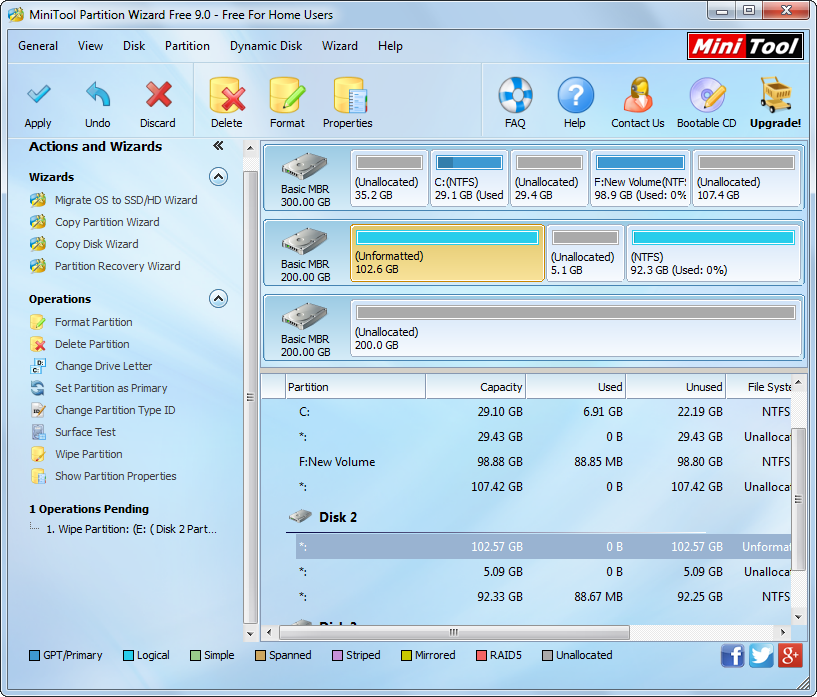 Click "Apply" to execute all the pending operations.
Finally, clearing data from partition has been perfectly accomplished in MiniTool partition manager. And users' privacy can be guaranteed now.