One of the most popular dishes to have originated in Southeast Asia is Satay. The dish originally became popular in parts of Indonesia and Malaysia, where people refer to it as "sate." The dish is made using seasoned grilled meat that's put on a skewer and served with a traditional sauce. Satay can be made using different kinds of meat, including pork, beef, fish, goat, mutton and chicken. Some people even use tofu while making the dish. However, the authentic version of the dish is made using beef and skewers from the midrib of a coconut palm frond. Traditionally, bamboo skewers are used in place of the palm fronds since they are more easily available.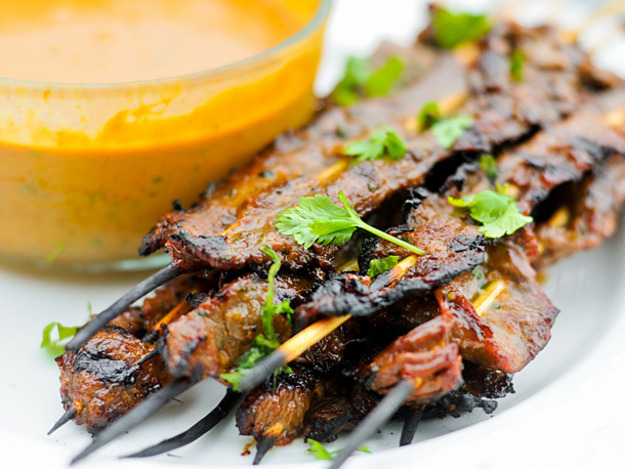 The dish hails from the island of Java in Indonesia. It is considered to be the national dish of the country, even though it's very popular in several other Southeast Asian countries, such as Thailand, Singapore, Malaysia, the Philippines and Brunei. Many companies now sell mouth-watering beef satay in Singapore as well. All you have to do is purchase the packet and follow the instructions on the back in order to create a delicious meal for yourself. Follow the instructions given below in order to make beef satay and dazzle your friends and family with your cooking skills!
Ingredients:
Bamboo skewers (at least 15, water-soaked)

Beef sirloin (1 KG), cut into small cubes

1 small cucumber (cut into small pieces)

1 red onion (quarter-cut)

Malaysian rice cakes (bite-size cuts)
Creating the Marinade
The beef needs to be marinated beforehand. You will need the following ingredients for creating the marinade:
1 teaspoon chilli powder

4 stalks of lemongrass

1 teaspoon of salt

Coriander powder (2 teaspoons)

10 shallots (peeled and cut in half)

Turmeric powder (2 teaspoons)

4 tablespoons of sugar

2 tablespoons of water

4 tablespoons of oil

3 garlic cloves
Put all these ingredients in a blender and blend them until they turn into a very smooth paste. Once that's done, put some oil in a wok and let it heat up before putting in the marinade. Stir-fry until the oil becomes separated from the marinade.
The Beef Satay
Once the marinade has been completed, the next step is to put the skewers through the cubed beef. Put at least three or four cubes on each skewer. Make sure the beef has been properly marinated before doing so. Then, use a charcoal grill or an outdoor gas grill in order to grill the satay carefully. Make sure you turn it around after every few instances in order to ensure that the meat is thoroughly cooked. Once the meat has been properly grilled, you can serve it on a dish. You can also use just a dash of oregano on the beef satay in order to enhance the flavour of the dish.