As far as settling car insurance claims are concerned, the assistance of an accident lawyer may prove to be an asset. And that is true for both no-fault and at-fault claims. No-fault claims are comparatively easier to settle, as it does not require you to prove your innocence to get your compensation. Similarly, you can handle the claims yourself if it is one of those minor accidents resulting in just a few dents and scratches for your car and some not-so-serious bruises and bumps for you. However, for other complicated claims, you must consult lawyers.  Auto accidents involving serious injuries and damages require you to file a liability claim against the erring driver. Since no-fault insurance laws vary from state to state, sometimes insurance companies delay the processes on that ground. When you have been involved in a car accident, where another driver is at fault, having a qualified attorney by your side can make a big difference. Here are the common ways lawyers can help you: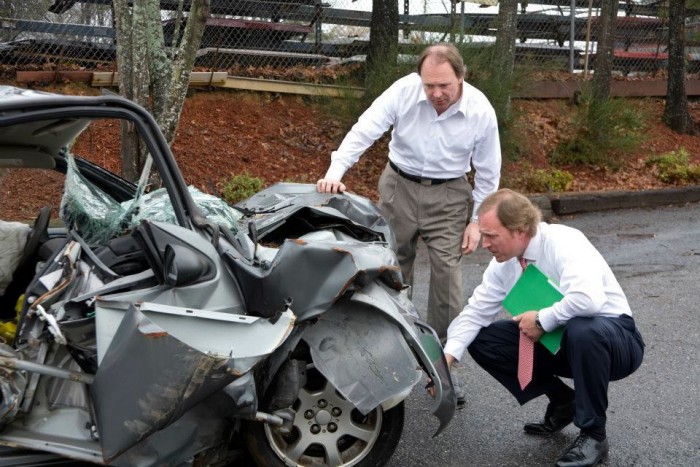 In-Depth Investigation
Not all car crashes are the result of recklessness or negligence of drivers. There may be a number of factors that can lead to a serious car accident including poor road condition, absence of signage and vehicle malfunction. Auto accident lawyers investigate all the factors that might have led to the accident.
Dealing with Responsible Parties
An in-depth investigation enables the lawyer to identify the parties, who might have been responsible for the accident in some way or the other. For example, when the crash happens due to tire blowout, its manufacturer can be held partially responsible for the accident and therefore liable for paying compensation. The lawyer will also help you to get the compensation money from the responsible parties either through law-suit or through out-of- the-court settlement.
Dealing with Insurance Company
It is always better to leave matters to experts. If there is an accident, let your attorney deal with the insurance companies, while you take rest and concentrate on recuperating from your injuries. Remember, universally, insurance company's business interest lies in minimizing the amount it pays to the claiming parties. Therefore, don't get surprised if their initial offer is an absurdly low figure. If you accept their offer, you lose the right to file a lawsuit to claim for compensation in future. Therefore, consult your lawyer before you accept any settlement offer from your insurance company. The at-fault driver's insurance company will always try to manipulate your statement to deprive you of your rightful claims.  Sometimes a wrong statement can be used to totally invalidate your claims.  When a lawyer represents your case, you can be rest assured that your statement is not misconstrued. The at-fault driver's insurance company will offer you the full value of your claim, only when they find that you are serious about dragging them to the court.
Reimbursement of Medical Expenses
An auto accident attorney can help you assess all medical expenses, including the future ones. Without the addition of future expenses in your claims, you could miss out on compensations you are entitled to get. It could even encroach upon your income and leave you in serious financial jeopardy. Usually, your lawyer would consult with your doctor to determine the cost your future course of treatment might involve.
Consulting a lawyer, preferably within a week or two of your accident, is important, but more important is to visit a doctor. This not only helps you heal faster, but also gives your lawyer solid evidence to build up your case. When it comes to hiring lawyers, auto accident specialists can help you significantly.  With a dedicated attorney fighting your case, you are sure to get the compensation you deserve.