Are you planning to give your bathroom a fresh look by remodeling? Waterproofing bathrooms is often overlooked or missed by homeowners while remodeling their bathrooms.
You can face a lot of issues relevant to water mainly in the bathroom due to the moisture. In the bathroom, there are several sources of water like showers, toilets, bathtubs and sinks. In case your bathroom is not well protected it can result in expensive damage due to leakages and at times cause illness also.
Leakage mainly takes place due to lack of knowledge about the different methods which can be carried out for the waterproof bathroom. If there is no proper slope close to the drain for letting the water flow easily, this can lead to leakage. It will then result in the dampness of wall and dirt accumulation and algae. If there is constant dampness then it can result in the development of fungi which can be very harmful.
Why should you consider waterproof bathroom?
There are several reasons why you should consider waterproofing your bathroom and here are some of them mentioned:
Helps to solve leakage problems:
Water easily and quickly finds its way downwards due to gravity. In case there are some cracks or gaps in the floor or walls it can easily get into it and will go to the ground / floor of the home. This might be visible on the damp walls or ceiling at the lower floor. In worst cases, water forms on the fixtures. This can lead to water combining with the electric units and this can prove to be very dangerous. Hence waterproofing becomes a very important thing in order to have a good environment in the house.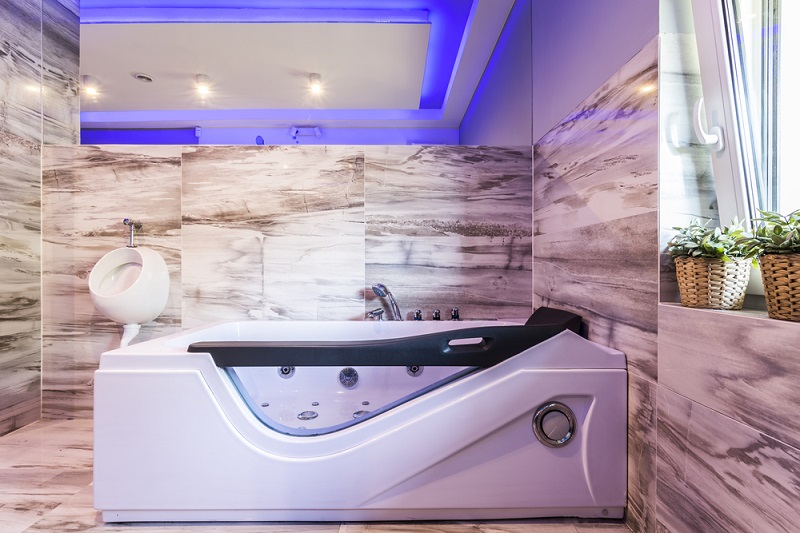 Helps in insulation:
Waterproof bathroom will help in preventing the formation of damp layers and leaks. It also acts as a good insulator. The external walls of the bathroom can become cold at the time of winter season. This refers that your bathroom needs high FTU for heating. In the future, this can prove to be very expensive. However, if you consider waterproofing boarding it can maintain warmth and also save on energy bills.
Helps in preventing mold and dampness:
In case you are remodeling your bathroom, there are chances that you might have taken out the tiles. There are chances that the water might get into the upper layer and penetrate and this condition is never treated. When waterproof barrier is added in between the surfaces and the top layer it can prevent the development of condensation. This ultimately results in preventing dampness.
Gives wide bathroom alternatives:
When studding wall is created with waterproof boards, it makes it possible to add great designer accessories to the bathroom. It is also possible for you to make your bathroom turn into a completely wet room, then go away with the shower tray for having a modern open shower. This will make your bathroom all of sudden very interesting.
Helps in enhancing the value of your property:
A waterproof bathroom reflects that lots of efforts and time have been dedicated to offering quality and expert finish for the bathroom. This becomes your selling point if you want to sell your house. It actually helps in increasing the value of your property.
These are some of the ways in which waterproof bathroom helps. In case you are planning to get waterproofing done to your bathroom then make sure that you hire the right service provider. Prior to hiring check the experience and reputation of the service provider. Also, make sure that you read reviews so that you can take the right decision.