Business processes are not static: to ensure successful functioning of your organization, you should keep tabs on what is going on there. It is hard to control every aspect starting from transactions and task assignment and finishing with actual development and staff management. Luckily, a BPM program from bpm'online can help you out. It allows keeping all business processes under control saving efforts and money. Once you start using BPM software (for instance, from https://www.bpmonline.com/BPM-software), you will offload your workers and make information exchange more precise and safe.
What is a BPM Program?
BPM (business process management) software is a versatile tool for controlling different operations going on within a company. Installed on a PC or a portable device, it connects employees and managers via an integrated system that tracks all processes and information exchange. Thanks to this software, entrepreneurs can be sure that their business is under control, and all processes are performed accurately and in timely manner.
Spheres of Application
BPM program can help control various business processes including:
Assignment of tasks of different priority to employees. Some BPM programs feature skill-bases routing, e.g. assignments are given to the staff with appropriate knowledge and experience. That ensures maximum efficiency of workflow.
Tracking of transactions and sales. The software stores and processes information about financial operations keeping sensible customer information safe.
Storage of data. BPM software can also serve as a data base, storing the information about business operations, customers and employees.
Real-time analytics. Get information about customers, business processes, sales, etc. Using the statistics you will be able to optimize your business and workflow. Besides, some BPM tools provide in-depth analysis together with suggestions for development and improvement of your business.
Interaction between employees and with customers. The software allows for getting and exchanging information quickly and effectively, no matter where users are located.
Therefore, a BPM program is a versatile instrument that replaces staff controlling and eliminates the need to perform most of manual tasks. Being 24/7 at your disposal, the software tracks business processes and gathers information to analyze and optimize workflow.
Benefits of BPM programs
The programs for business process management are gaining wild popularity among entrepreneurs due to their convenience and efficiency. Being similar to CRM programs, this software is created to automate processes and save on workforce. What else makes this solution superb?
You don't have to install many programs to manage different processes – BPM system allows integrating many functions being suitable for various devices.
Performing various tasks and processing a lot of information, software can replace the whole team of specialists. That makes BPM tool a cost-efficient solution that appears to be cheaper than hiring extra staff. The program is available around the clock and is not prone to mistakes.
BPM software not only optimizes processes, it analyzes them and suggests the best ways to eliminate the bottlenecks. Thanks to these recommendations, you will be able to constantly develop your company.
Programs ensure safe and reliable storage of data and customers' information. Besides, software may process real-time data and systemize it.
BPM software is created especially for optimizing and managing business processes without too much expense and effort.
Functions of BPM software
You can find various programs for BPM online that perform different functions. There are both versatile and narrow specialized tools for varied tasks. These include management of workflows, data storage and transfer, communication between employees, transactions, analysis, etc. BPM software is easily customized, and you can find a program that will suit exact demands of your enterprise. Install single software, and it will replace dozens of applications and programs. Save money and efforts.
Will BPM be suitable for my company?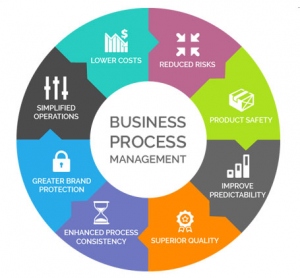 It is a common misconception that only large-scale enterprises need a specialized software and cloud infrastructure for process management. In fact, BPM programs are suitable for any company, you just need to find the best solution based on your needs.
Your accountants can't manage to process all documentation and a huge number of transactions? BPM will collect and process information for them. Your employees are scattered around the globe, and you want to provide them with integrated space for interaction and communication? Software for BPM will enable them to exchange information quickly. You want your data to be analyzed in real time? Install BPM software, and you will get all relevant information about company processes and recommendations for making business better.
Thus, programs for BPM can be used by any business that wants to improve its performance and make interaction and business processes more convenient. This solution is more affordable than you think, and some programs can be easily implemented by organizations with tight budgets. The price is worth paying due to advantages and possibilities provided by a program.
Where can I get BPM software?
Bpm'online provides a wide range of BPM software used for different purposes. We offer state-of-art technologies at reasonable cost. Trust your mission-critical tasks to business process management tools, and you will see significant improvement in conversion and in effectiveness of your business. You can find information about bpm'online approach and the technique of intelligent sales in the eBooks.
Optimizing your business processes without extra expenses and efforts has become easier than never before with advanced BPM programs.