Nowadays people save a lot of data in different devices but sometimes it may happen that the data gets lost. Now you may think that how will recover this data so this data can be recovered from the data recovery software. The data gets lost due to various reasons such as virus attack, hardware failure, OS crash, corrupted file, hard disk crash etc. You need to check which data recovery software you must use so that you can recover your data fully.
EaseUS data recovery software is one the best software being used by the people. It has all the best features available which a user requires in it. Its functionality is very fine and of good quality. Every type of data can be recovered from this data recovery software. All secondary storage devices are supported by the EaseUS data recovery software which also helps in Mac data recovery. The recovery of the lost data can be done very efficiently and effectively.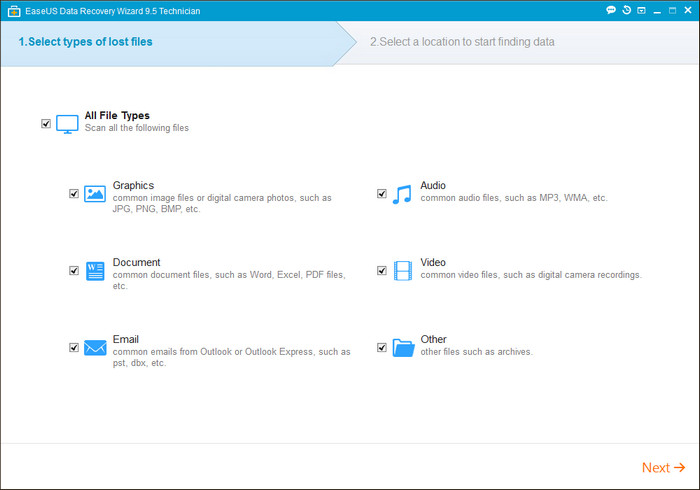 The various features of the EaseUS data recovery software are:-
Recovers formatted data – It is the best data recovery software which recovers formatted, lost data from any of the unexpected situations. The data can be recovered from the laptop , PC , digital camera etc. First of all, you have to search for the file type you want to recover and then check whether it's been able to recover or not. If it's not then you can do the deep scan as well which will help you to find your lost file very easily, this scan may take some more time but it will definitely help you to find the lost file.
Mac data recovery – The data can be recovered very easily from Mac within a minute. More than 30,000,000 people are using this and it's their best choice as it really helps them retrieving their data. This software is one of the best and 100% safe for the Mac data recovery. Moreover it also saves files from the Mac laptop, Mac desktop, SSD, SD card, USB, memory card. It also recovers the data from the deleted partition by the management tool i.e. Mac disk management tool and the data which is accidently moved or deleted to trash. Many other reasons for data loss are software failure, sudden power off, pulling out the memory card improperly or during writing turning off the storage media.
Effective and time saving- Free data recovery software is not only effective but also time saving. This does not take much time in searching the lost files which sometimes accidentally gets lost.  The preview is also given to the user before recovery so that user finally checks the file he wants to recover. The user can get files back successfully as this software is very reliable and efficient. This does not consume much time of the user and you can opt for deep scan as well if you are not satisfied with the search of the software. Recover your lost data from any of the secondary storage devices even which is inaccessible.