Much like the maxi dress, the maxi skirt offers ceaselessly flattering style to anyone who wears it. Characterised by its ankle length hemline and versatile styling capabilities, the maxi skirt can be loose and flowy or more body-hugging. The choice is up to you, and it's just the first of many choices this choice skirt affords wearers of all shapes and sizes.
Because of its equally classic and fluid cut and design, it's easy to wear a maxi skirt any time of year, for just about any occasion.
Here's how.
Cropped Classic

Perfect for spring or summer.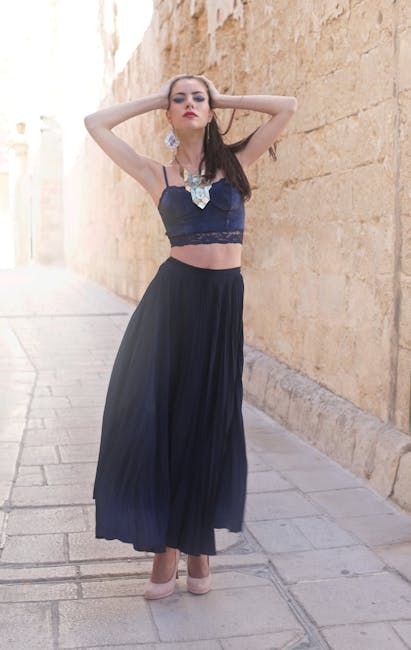 Add some juxtaposition to your summer or spring style by pairing a maxi skirt with a crop top. The long lines of the skirt and the short, abrupt style of the crop work in a perfect, stunning dichotomy to create a killer look.
If you're shy about bearing a whole lot of skin, opt for a maxi skirt with a higher waistline. Most maxi skirts already hug your natural waistline (that's about two finger-widths above your belly button), but some can ride a little lower. If you want a flattering style that still shows a peek of flesh, aim at least as high as your natural waistline, if not a bit higher.
Blouse Beauty
Perfect for any season.
This asymmetrical maxi skirt from Cooper St. showcases a fantastically fitted waist.
When combined with a crisp,button-down blouse, your flowing maxi skirt takes on a more polished appearance. Not any maxi skirt will do, however. You need a more structured maxi dress with a fitted waist. An elasticized waist won't cut it, since it will not pull the blouse together. Instead of appearing poised, you'll look frumpy and unkempt.
Booted Bliss
Perfect for cooler weather.
While maxi skirts often call to mind images of sandals and warm weather, you can actually wear your maxi during the cooler months. All you need to do is use a little accessory ingenuity. To keep your feet and legs warmer, embrace boots: ankle boots, knee-boots or over-the-knee boots all work. Boots look particularly stunning when your maxi skirt has a slit or an asymmetrical hemline, since these cuts really showcase your stems, and by extension, your boots.
Nice and Knitted
Perfect for cooler months.
Nothing is nicer than knitwear on a cold day. Take the cozy comfort of your sweater out on the town by tucking it into your fitted-waist maxi skirt. Pop on a pair of pearl earrings and you've got an easy elegance that's as sure to impress  as it is comfortable to wear.
Something to keep in mind: super chunky knitwear won't work, since it will add too much bulk to your midsection when tucked in. Opt for a lighter sweater that doesn't have much bulk. Or, think back to our first styling tip and choose crop top knitwear.
Next time you slip into a maxi skirt, remember: this style doesn't confine you in terms of movement, style or season, so wear it, and use these tips to wear it well.